What is a nuthatch?
We don't want you to get confused by the "nut" in our name. Though we started with just nut milks, we now make fresh plant-based milks and foods with nuts, seeds, and locally sourced oats! But when we were in search of a name, we found that as a company and as a team, we had a lot in common with the nuthatch - that is, the bird native to our region, including NYC!
If you didn't already know about the nuthatch, you're not alone! We're here to tell you about why we feel a connection to our forest neighbor. 
First off, while many birds survive mostly off of worms and other insects, nuthatches eat nuts and seeds as a large part of their diet- just like us! As foragers, they must survive off the local plant offerings - and they're very picky - again, just like us! Like nuthatches, we carefully select all the nuts, seeds, and grains that we work with, sourcing locally whenever possible. This way, we support our local environment and economy, therefore reducing our environmental footprint and maximizing our social impact. Our picky selection and high standards for ingredients carry over into everything we do - from the particular quality of the milk we make to the local delivery standards we uphold. We're New Yorkers - so we know being picky isn't always a bad thing! 
Not only do we love what nuthatches eat, we also love the way they eat. They take a food item like a large nut or an acorn, stick it into a crevice, and then peck at it relentlessly to "hatch" out the seed with their strong bills. Thinking about our nuthatch friends working hard for food reminds us of the importance of treasuring every nut, seed, and grain in our kitchen. We work hard in the kitchen, both physically and creatively, to make sure we don't waste a thing! 
We can also relate to the nuthatch's behaviors. They run up and down trees like squirrels (which makes them very unique birds). We run up and down NYC sidewalks, subway stairs, and elevators to make sure our milk gets delivered fresh to your door. Nuthatches also travel in mixed flocks and they can recognize bird calls from other species - so not only do they coexist with their other bird friends, but they actually intermingle! 
In essence, nuthatches are multilingual, forward-thinking, picky eaters! So we think they would fit right in as New Yorkers.
Here's what our friends looks like. You might spot them on a tree in New York City!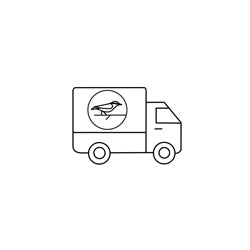 save 10% by subscribing to weekly deliveries
At Nuthatch, we make drinking plant-based easier than ever with our weekly delivery subscription program!
Simply add items to your cart, and before checkout, select "Subscribe & Save 10%." Then, choose your delivery frequency (every 1 or 2 weeks).