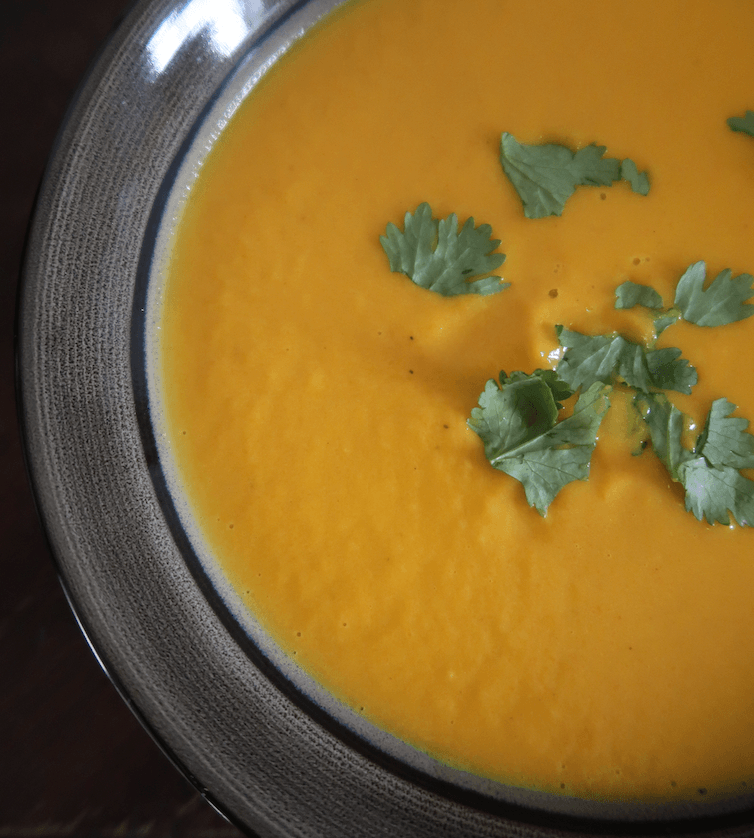 Looking for an easy, delicious, and VEGAN soup to make when you're in a hurry? Look no further.
INGREDIENTS:
1 tablespoon coconut oil or olive oil
½ a white onion
2 tablespoons of chopped and peeled ginger root
4 garlic cloves, roughly chopped
2 cups veggie broth
1 lb chopped carrots
½ teaspoon salt
¾ – 1 can of coconut milk
1 teaspoon yellow curry powder
1 teaspoon maple syrup
Pinch or two cayenne, to taste (optional)
DIRECTIONS:
Peel and chop onion, ginger and garlic.
Peel and chop the carrots into ½ inch rings.
Heat oil in a large pot, over medium heat.
Add onions and ginger and sauté until golden, about 3-4 minutes.
Add garlic and continue cooking, stirring about 2 minutes.
Add veggie stock, carrots, and salt.
Bring to a boil, cover, turn heat down and simmer until carrots are tender, 15-20 minutes.
Pour into blender until very smooth and velvety.
Place the soup back in a pot, over low heat and add coconut milk, curry, and maple.
Add turmeric and cayenne (optional).
Top with cilantro.