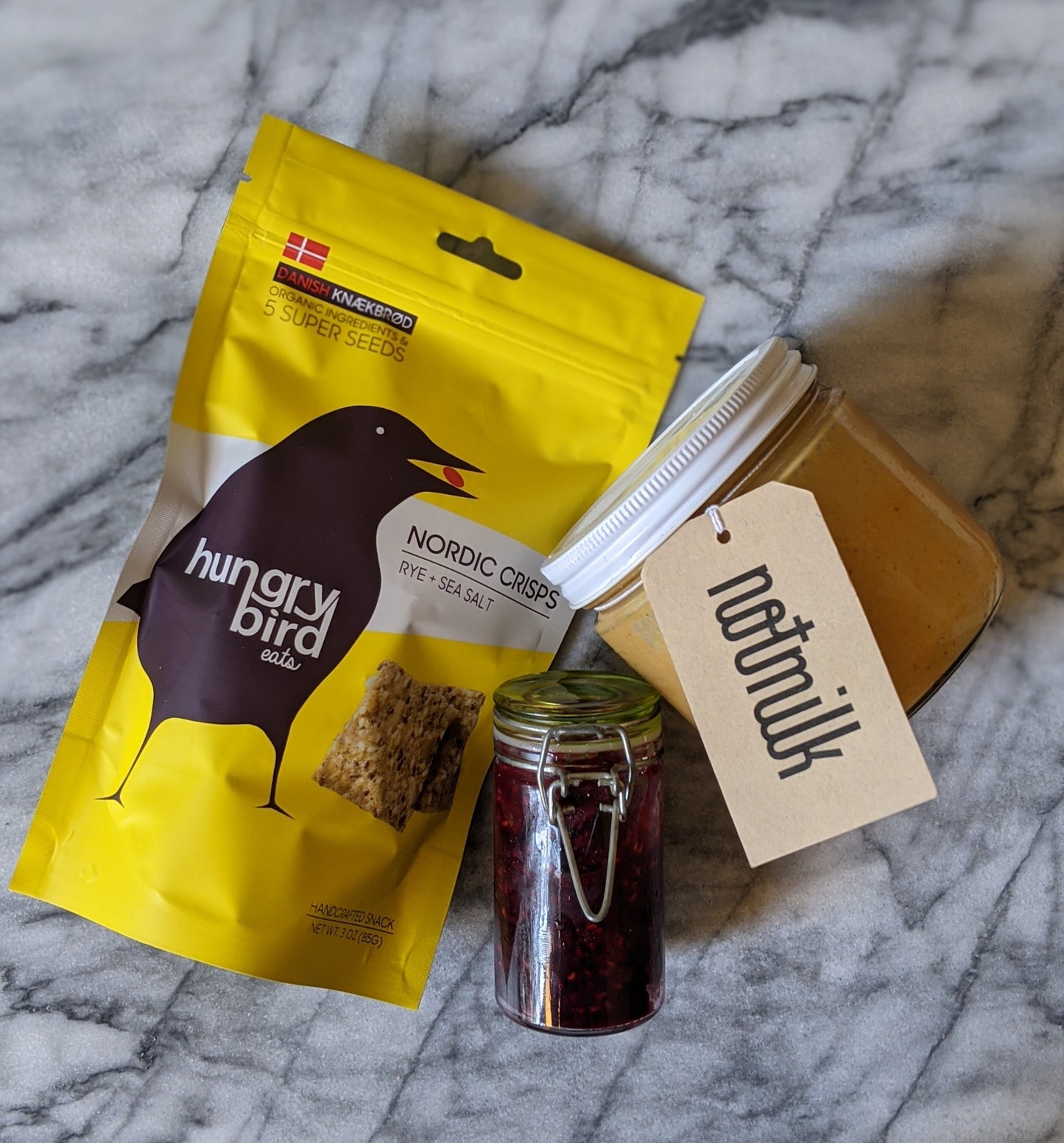 In these trying COVID times, NotMilk is all about comfort food that makes us feel like a kiddo again at home in mom's kitchen BUT we still stick to our fresh values when it comes to snacking. Here's our take on the "on the run meal" for every working mom - presenting the AB&BLJ! Great for breakfast or lunch, or a sneaky healthy snack! And let's be honest, don't we all need a high energy, not too sweet but still satisfying pick-me-up right before yet another zoom call? Or maybe even on the call, mute ON video OFF! Snack happy everyone, we won't tell! 
Our almond butter is made from upcycled organic blanched almonds. That means we use every ounce of almond in our kitchen and we process almond meal (the byproduct of cold pressing almond milk)  into flour and butter so not one almond goes to waste! Our AB is lightly roasted and we add a hint of sea salt to bring out the natural richness. And did we mention the texture is deliciously smooth and it's gut friendly too? There are no skins in our almond butter!!
We add our almond butter to toast or to seed crackers for lighter fare. We love Hungry Bird Eats vegan and gluten free seed crackers. We think this recipe for berry lemon jam from our team member @merlyndi_ is pure perfection. It is sweet, rich in color- enough to trigger the memories of grape jelly but- with the twist of lemon added, you get a nice tart kick with the bite of sweet. It's so right you might just find yourself eating it straight out of the jar!  
Myndi's Recipe for Berry Lemon Jam
½ cup frozen raspberries, thawed
½ cup frozen blueberries, thawed
½ cup sugar (plus more to taste)
1 tsp fresh squeezed lemon juice (plus more to taste)
½ tsp lemon zest
1 tsp vanilla extract
Pinch sea salt
Instructions: In a medium saucepan, add berries on medium low heat until they start sweating, about 3 minutes. After enough liquid has been released that you can easily spoon out some juice without having to press hard on the berries, add sugar and lemon juice. Lower the heat and cook berries until most of the liquid has evaporated, stirring frequently. When there is no visible liquid left, add vanilla extract, lemon zest, and sea salt. Taste and adjust sweetness to preference.
Remove from heat, cool, and enjoy. Be sure to store it in the fridge, it will keep for about 1 month.