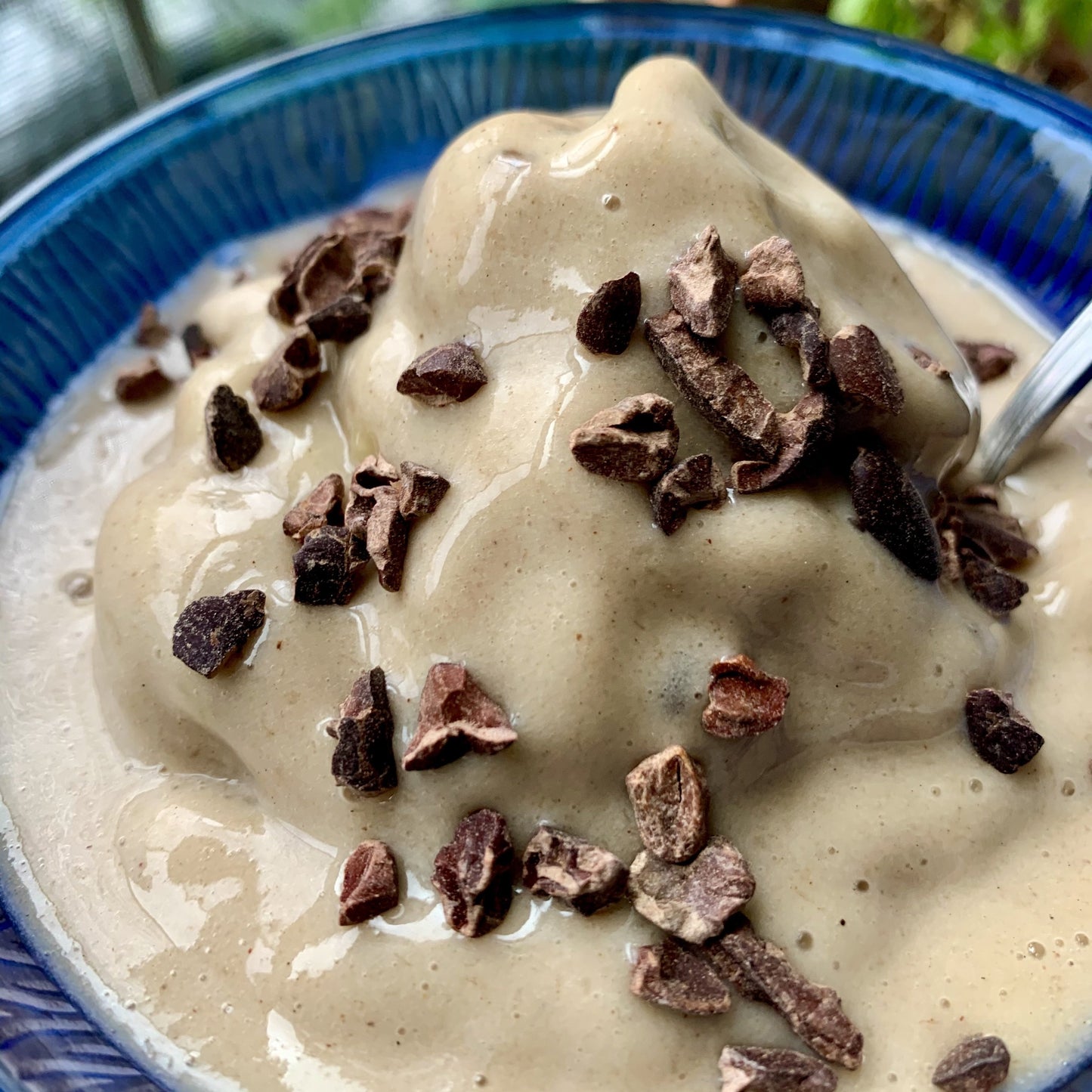 Ever since I found out how easy it was to make the famous "2-Ingredient Banana Ice Cream," I've been doing it ALL the time. Goodbye to vegan ice cream alternatives in the grocery store aisle packed with oils, gums, and questionable sugar replacements. Hello guilt-free midnight snack!
Horchata Reishi Almond milk adds a whole new level of flavor to this treat when you use it as the milk base. And I never forget to add raw cacao nibs on top for the perfect crunch. 
If you have a food processor at home, that's the best way to go. Except, I didn't. So a Vitamix works as well (you might just need to use a long spoon to make sure the frozen banana really gets mixed up. 
*For a harder ice cream, put your banana mixture BACK in the freezer after you blend. For a soft-serve experience, it's ready to eat! I always enjoy the soft-serve version, because I have a hard time waiting. 
Horchata Reishi Banana Ice Cream
1-2 servings
2 ripe bananas, sliced and frozen*
½ cup Horchata Reishi Almond milk
Optional: 1 tbsp raw cacao nibs
*Trick to freezing bananas: never freeze with the peel on! Peel first, then slice, then freeze. Trust me - you won't regret it. Banana peels are impossible to remove when frozen. 
Also, the more ripe your bananas are, the sweeter your ice cream will be. We recommend letting the skins brown a bit before peeling and freezing. You can speed up banana ripening by putting your bananas in a brown paper bag on your countertop for a day - presto ripened!
Instructions: In a food processor or blender, add 2 frozen, sliced bananas and ½ cup Horchata Reishi milk. Blend until you reach a smooth consistency (you probably will need to mix it around a few times with a spoon to encourage blending!) Scoop out the ice cream into your favorite bowl, and top with raw cacao nibs (or anything else you want!) Careful - this melts FAST, so either pop it back in the freezer to harden, or eat it immediately!