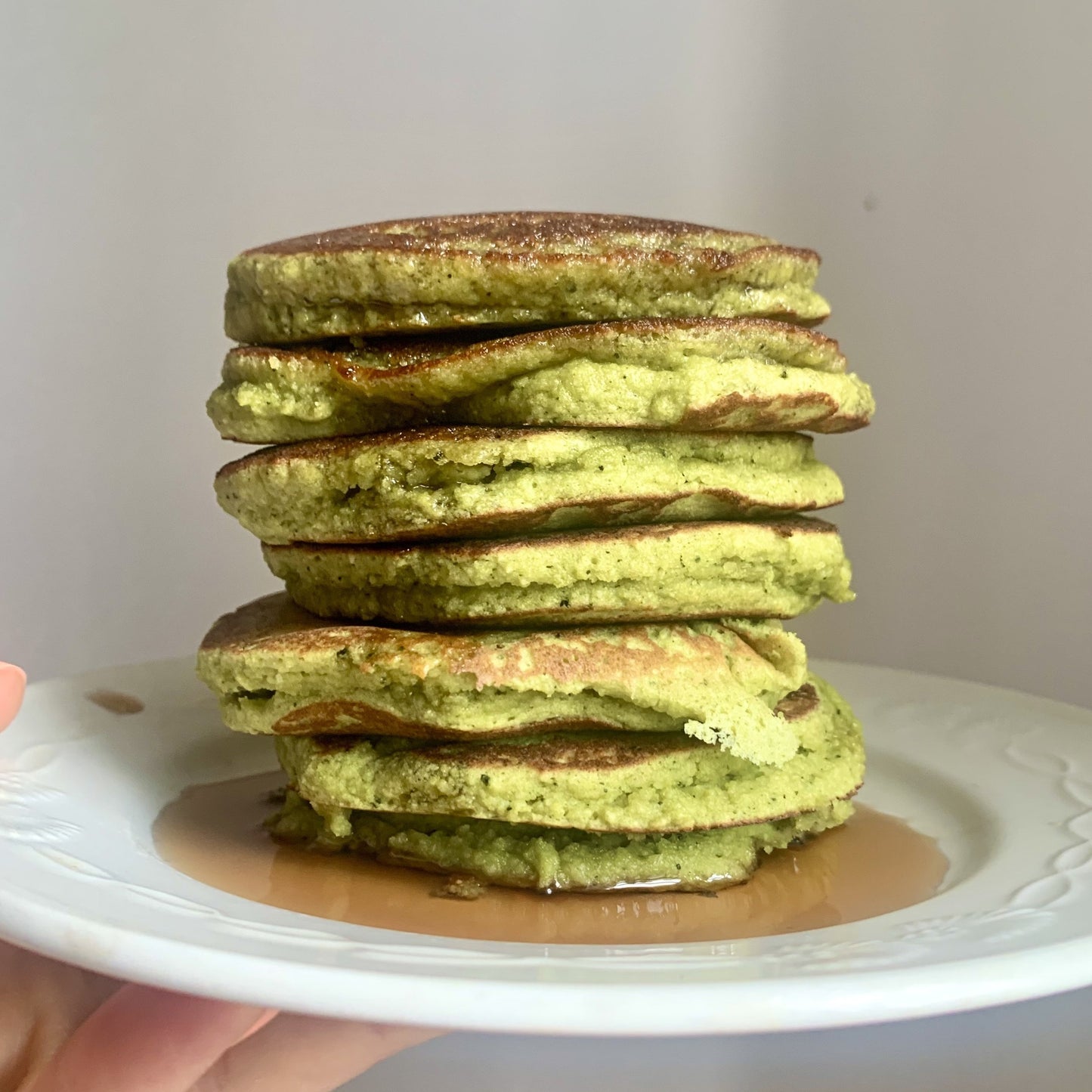 We're about to combine two of my favorite things - matcha and Sunday morning pancakes. We were dying to use our upcycled organic almond flour, and we based our recipe on this Love & Lemons Almond Flour Pancake recipe. Pair with a cup of ceremonial grade matcha for a sustained and focused weekend caffeine boost.
Please note this recipe is gluten-free, but it is not vegan. We used eggs from our local Farmer's Market. For a vegan almond flour pancake, try out a flax seed egg substitute.
Matcha Oat & Upcycled Almond Flour Pancakes (serves 2-3 people)
1⅓ cup NotMilk organic upcycled blanched almond flour 
1 teaspoon baking powder
¼ teaspoon sea salt
¼ cup Matcha Oat NotMilk
2 large eggs
1 tablespoon pure maple syrup
1 teaspoon vanilla
Extra-virgin olive oil
Prep Time
It took me only 10 minutes to get this batter together and the first pancake on the frying pan. Let's get cooking! 
Instructions
First, whisk together the dry ingredients - almond flour, baking powder, and sea salt. 
In a separate bowl, whisk together the Matcha Oat NotMilk, eggs, maple syrup, and vanilla extract. 
Pour wet ingredient mixture into dry ingredient mixtures, and mix until smooth! Add more milk for a thinner batter or more almond flour for a thicker consistency.
Pro tip - to make your batter extra green, you can add 1 tsp extra Matchaful Hikari matcha powder to the batter. Just make sure to sift into the bowl!
Brush the pan with olive oil, and start making your pancakes! Everyone has their own size preference and pancake-making style, but we recommend using ¼ cup pancake batter per pancake. Cook on low heat for 1-2 minutes each side.
Don't forget to top with maple syrup!! We love New York State maple from Finding Home Farms.