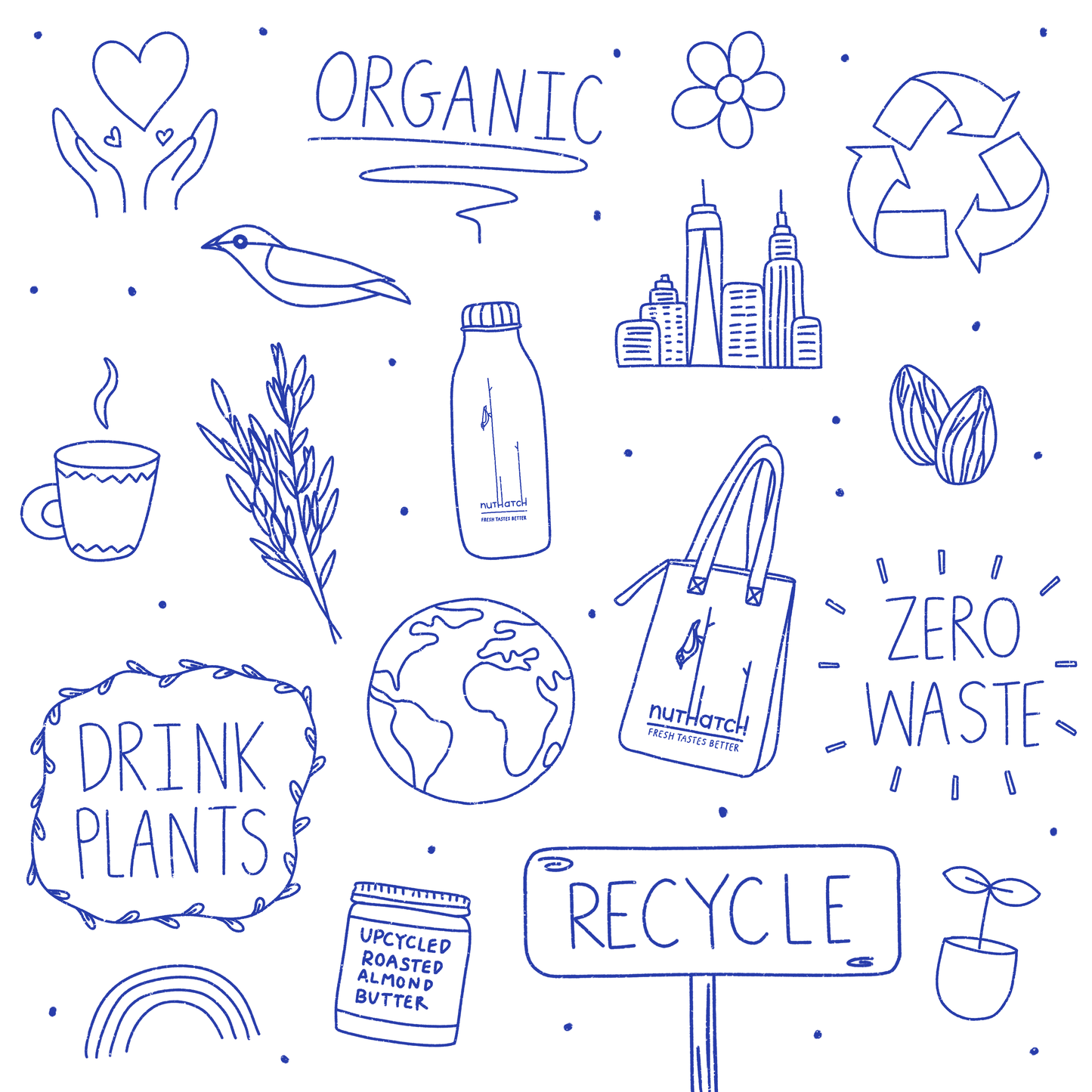 We are excited to be publishing our inaugural sustainability report! While our company has always taken great pride in our focus on sustainability, this report formalizes our commitments to our environmental, social, and economic goals. After our rebrand last year in November, we hope this report showcases everything that makes us...Us! This transformational period has allowed us to re-focus on what matters most to our company. We are so excited to share our accomplishments and goals with you!
In order to create this report, we partnered with an inquisitive group of graduate students at Columbia University to document our sustainability practices and goals. In this process we have learned so much and have been able to showcase our own holistic approach to sustainability management. Our sustainability journey is ever-evolving and this report will be a guiding light towards future metric tracking and goal-setting. 
This report has been prepared in reference with the Global Reporting Initiative (GRI) Standards: Core option. 
OUR MATERIALS AND PACKAGING
We currently are working to create a more formal material tracking system. For this report we have been able to monitor the efficacy of our materials use strategy through analyzing the input and output of most of our materials.
In 2020 we used 1499 lbs of almonds, 645 lbs of oats and 150 lbs of cashews to produce our milks and upcycled products. 100% of our organic blanched California almonds and their pulp byproduct were used to create milk, nut butter, and flour. 20% of the cashews and oats we use in our milk became byproducts used in our kitchen to experiment with future product offerings like popsicles, yogurt and vegan cheese. We use commercial dehydrators to convert leftover nut pulp from our milks into gluten free flour. Our upcycled flour is sold to our customers and local bakeries.
As an environmentally- and health-conscious brand, we believe in matching the integrity of our packaging with the integrity of our products. At Nuthatch we have simple values that we're serious about, like choosing glass over plastic for our packaging.
Glass is better for the planet - There was a lot to consider when we decided to use glass bottles - the energy and material used to produce them, the cost of transportation, the excess packaging used to ensure they don't break when shipped, and whether they actually get recycled or reused. We collect our glass bottles back from our customers, and reuse them until they break (a rare occurrence - our glass is especially sturdy). Out of the 4,644 bottles we purchased in 2020 we received approximately 3,716 of them back from customers.
Our products taste better in glass - Glass bottles preserve the flavor of our milk. Though plastic bottles are technically still safe to drink from by FDA standards, they are made with chemicals that can leak into beverages and affect their taste. On the contrary, glass is simply 100% made from glass! It is an impermeable, more inert material than plastic, therefore protecting and preserving our products, and that's why we love it!
We are a zero waste business
In each step of our business we are constantly analyzing and innovating ways in which we can divert waste from disposal. Being a zero food-waste company is integral to the DNA of Nuthatch. Reducing our waste through upcycling food byproducts and reusing materials also allows us to keep product costs low for customers – wasting food and high-quality materials is expensive! 
We employ circular business practices with our customers to ensure our packaging never ends up in a landfill. We incentivize all customers with a $1 credit for each bottle and bag they return. We are proud to say that over 80% of bottles and 70% of insulated bags that we send to our customers get returned to us to be washed and reused! We recycle all plastic caps as they cannot be reused due to health and safety reasons. At Nuthatch we love to play with our food. Our kitchen is constantly creating new recipes to transform our food waste into for our at-home customers and local bakeries. 
In 2020 we diverted 1300 lbs of food waste (68% of our total food waste) from the landfill with our upcycled food products. 
 *these are estimated totals based on the cost of our waste disposal and raw material input 
Farm-to-Bottle
Since our founding, Nuthatch has integrated environmental and social efforts, with a commitment to source our materials locally. Nuthatch's main procurement product is our ingredients for our plant-based beverages. In 2020, over 90% of products and services were sourced locally. We work with local producers and makers directly instead of going through a third party.
Our definition of local is within the surrounding New York City area or a 200-mile radius for farms. We are also committed to work with minority and women owned businesses, and we aim to do business with them when possible. With one of our core values being fair treatment of our employees, we try to inspire others to provide safe and fair working conditions. While we do not currently audit our suppliers specifically with respect to human trafficking and slavery, our ongoing communication with our suppliers enables us to become very familiar with their operations.
We purchase all our glass packaging directly from a local company, Stanpac. Their location in Totawa, New Jersey allows us to reduce our transportation carbon footprint. As one of the last manufacturers of glass bottles in the United States, Stanpac has been in business since 1939.
Emissions
Our emissions are difficult to calculate since we do not have specific energy use data. We occupy a shared production facility and are not metered for electricity or water. Since we account for only a portion of our shared warehouses' electricity each month, we are unable to calculate our exact electricity use at this time. Our kitchen is 1200 sq ft in size and our walk-in cooler is 40 sq ft.
By referencing the number of bottles we sold in 2020, we are able to come up with the volume of nut-milk that we produced. With over half of our nut-milk products using almonds, we used a commonly cited almond milk life-cycle emissions factor (0.71 kg CO2e) and applied it across all 2020 nut-milk products. This emissions factor is a generic industrial almond milk factor and our actual emissions likely differ. However, this provides a benchmark for the industry, even if it is not specific to Nuthatch. In the future, we hope that an accurate assessment of emissions can be calculated and we can compare emissions from our operations against the industry.
Nevertheless, using this emissions factor, this methodology suggests that Nuthatch generated roughly 2,200 kg of carbon dioxide equivalent in 2020. This number accounts for the entire lifecycle of an almond milk product.
We try our best to limit our emissions throughout the delivery process. When possible, we deliver our milk via bicycle. For larger deliveries where we are unable to use a bicycle-delivery method, we use an SUV to deliver milk. However, by using local suppliers and serving customers only in New York, we keep all Nuthatch-related transportation to a minimum; providing a fresh and lower emissions product. We believe the best way to combat emissions in the food and beverage industry is to both work with and serve local communities.
Health and Nutrition
From the research and development of our products, rigorously training and educating our employees on health and safety, and making sure we have the highest quality ingredients and packaging, health and nutrition are always at the forefront of what we do. We currently do not have a formal surveying system to assess the overall health impact of our products.
Industry-wide, much of the technology that has gone into producing and delivering food has gone to preservation. At Nuthatch, we are local and fresh to our core. Our fresh plant-based milks are unpasteurized and do not include any preservatives or additives ever. We want to ensure our consumers are not only getting to enjoy our products but they are receiving the full nutritional benefits of the organic ingredients we use. For our sweetened milks we use organic dates or maple as sweeteners. Refined sugar and artificial sweeteners are a big NO in our kitchen. All drinks are produced in glass bottles which prevents any risk of the chemicals found in plastic or paper packaging from leaking into our products.
Knowledge is power! Good customer health and safety starts with comprehensive and experiential training and education. Though we have a formal training and exam period with our new hires, we keep the knowledge flowing through monthly seminars and our constant experimenting in the kitchen. Our employees know what makes our products not only delicious but most importantly nutritious!
Community Impact
We are strong advocates for an equitable and just society. In 2018 when we hired our first employees we created our 'Fresh Start' program. The goal of this program is to help individuals in the local community earn economic equality. We work with two local nonprofit organizations - FortuneSociety (partner since 2019) and the Center for Employment Opportunities (partner since 2018) to train and employ NYC residents who are often overlooked due to inexperience or having a criminal record.
With these partnerships we established a six-month paid internship program to train participants in zero-waste food production, operation of commercial equipment, compliance with local hygiene and safety regulations, and inventory management. Upon completion of the Fresh Start program, participants will have earned a Food Handler Certification and a letter of recommendation from Nuthatch.
These partnerships are critical in providing resources, opportunities, and transferable job skills to those who are reentering society. We are doing our part as a participating member of the community in reducing the rate of recidivism.Partnerships with organizations that do this work are important because they help us connect people to resources that we aren't able to provide directly ourselves. This includes everything from subsidized metrocards, access to affordable housing, and matching employees with social workers and therapists that can help with mental health services. These organizations provide incredible support.
We support our non-profit partners in any way we can. We attend recruitment events and provide letters of support so they can receive federal grants and continue the work they are doing for the community.