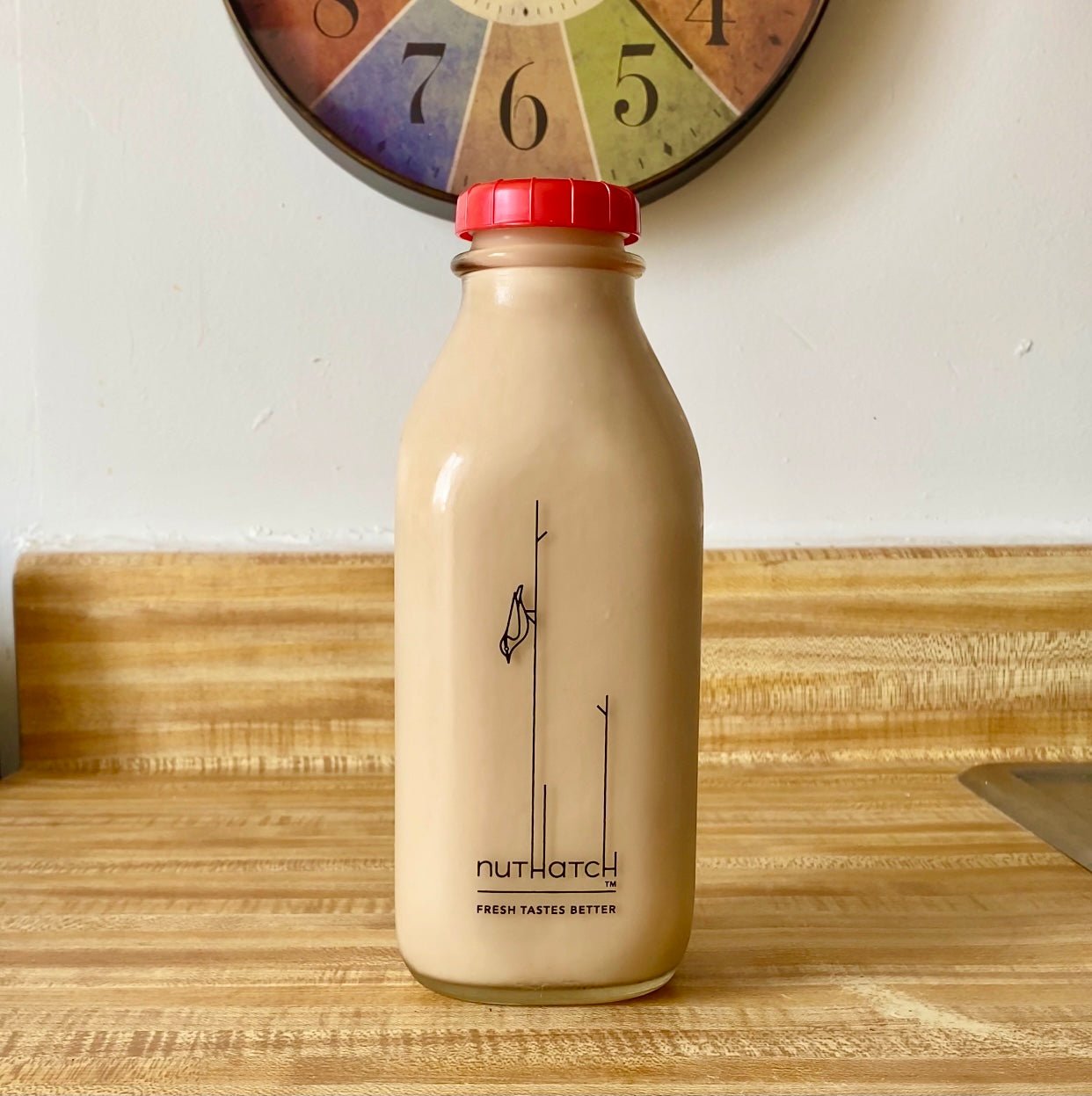 Wondering how to use your Maple Walnut Flax Milk? Luckily for you, the possibilities are endless! Below are just a few ideas on how to pour, mix, and create with this milk. Everything we made was with a quart (32oz) of our Maple Walnut Flax - and we even had some to spare! 
In your regular coffee
This one's pretty self explanatory! Pour yourself a cup of your favorite coffee (hot, cold brew, whatever you like!) and add in as much Maple Walnut Flax milk as your heart desires. There's no wrong way to do this one! The milk gives your coffee an earthy and creamy taste that's like no other. Definitely a must-try.
If you want more info about this milk's taste profile and benefits, read our last blog post, A Simple Guide to Walnut Milk.
Strawberry, Blackberry and Banana Smoothie
The cool thing is that Maple Walnut Flax milk is versatile. You can add it to any smoothie recipe you like - you don't have to necessarily try this one. The taste of the milk doesn't overpower the smoothie, and it makes it just a bit thicker than regular almond or oat milk would. But, if you prefer more watery smoothies, check out our fresh almond milk and fresh oat milk.
How we made this:
- Toss a handful of cut up strawberries, blackberries, and banana, some ice, and a cup of Maple Walnut Flax milk into a blender. 
Chia Pudding 
This one is one of our favorites! Chia pudding is a classic, super customizable, and really easy to make. Virtually any vegan milk can be used to make chia pudding, but we especially love it with our Maple Walnut Flax milk because of how thick it comes out. 
How we made this:
- Combine 4 tablespoons of chia seeds, 1 cup of Maple Walnut Flax milk, and a splash of vanilla and maple into an air-tight container like a mason jar. 
- Let sit in the fridge for 1-2 hours. If after that time the pudding is too liquidy, leave it in for 30 minute increments until optimal consistency. 
Cereal & Milk
This one's another you can't really do wrong. Our Maple Walnut Flax milk pairs well with pretty much any cereal! Now, if you're one of those people who pour cereal before milk, then we may have to talk...
Oatmeal
Oatmeal is a breakfast staple, and why not switch it up with something new?! 
How we made this:
- Combine oats (we used a pre-prepared packet) and 2/3 cup of Maple Walnut Flax milk.
- Put in microwave for 1-2 minutes, and 2-3 minutes for a less liquidy result.
- Top with your favorite fruits and granola!
Start creating with Maple Walnut Flax milk today!
At Nuthatch, we make and deliver fresh plant-based milks in NYC. Our vegan milks range from classics like Oat and Almond milk, to fun flavors like Matcha Oat, and yes, even Walnut Flax Milk! During the month of March, our unsweetened and maple Walnut Flax milk is $2 off per bottle. PLUS – we are offering free shipping to the zip code 11231 all month long. Order a pint or quart of Walnut Flax now to have it delivered to your doorstep.