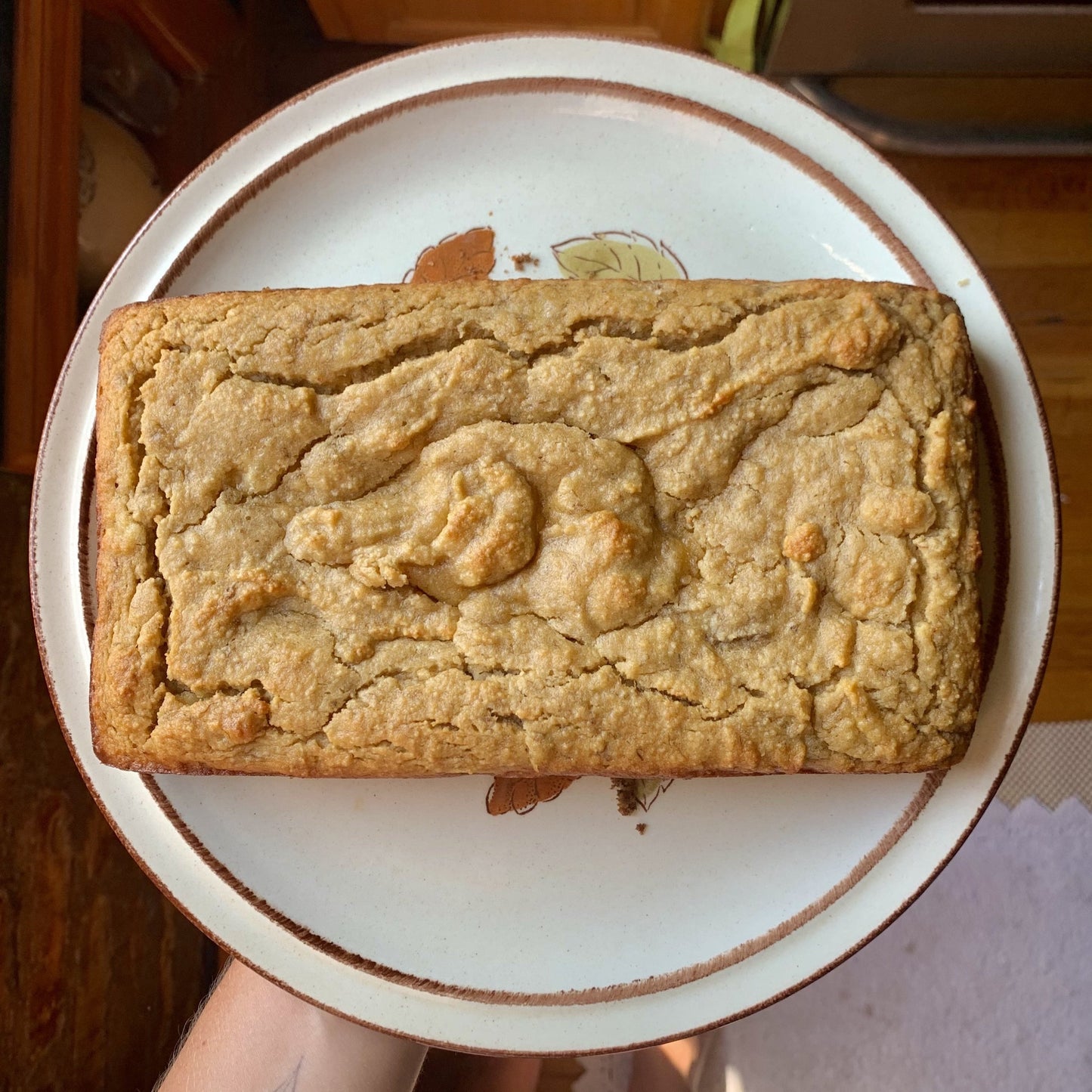 I really do think this has been my best work in the kitchen. I couldn't believe how moist this banana bread came out! The loaf didn't last in my house for more than 24 hours. Not only does the upcycled almond flour mean it's gluten-free (and eco-friendly!) but it adds a whole new taste and texture that I'm a BIG fan of. I'll never miss regular old white flour banana bread again.
I took inspiration from this Well Plated by Erin recipe, so check out her site for more tips and tricks. The best part of this recipe is that you only use bowl - which means you only have to clean one bowl! I love minimizing clean-up when I bake. 
*This recipe does use eggs. If you want to go all vegan, substitute with a flax seed or chia seed egg! 
And with no further ado, here's the recipe! 
Upcycled Almond Flour Banana Bread 
Ingredients:
3 Large bananas (extra ripe - almost brown!)
3 eggs
1/4 cup pure maple syrup
3 tablespoons canola oil or melted coconut oil
1 teaspoon pure vanilla extract
1 teaspoon baking powder
1 teaspoon baking soda
½ teaspoon ground cinnamon
½ teaspoon kosher salt
3 cups organic upcycled blanched almond flour
Instructions:
Preheat oven to 350 degrees and coat a 9x5" loaf ban with butter or oil.

In a large bowl, mash bananas until they're (pretty much) smooth. Don't worry if they're still a little bit lumpy! Add the eggs, maple syrup, oil, and vanilla and whisk until smoothly combined. 

Add baking powder, baking soda, cinnamon, and salt and whisk to combine. 

Almond flour is the last step! Add almond flour (bit by bit) and fold into the mixture with a spatula, just until the almond flour disappears. 

Transfer the batter to the loaf pan, and pop in the oven! Bake for about 30-40 minutes, periodically checking until a toothpick inserted comes out clean. 

Let cool before transferring out of the pan and serving!