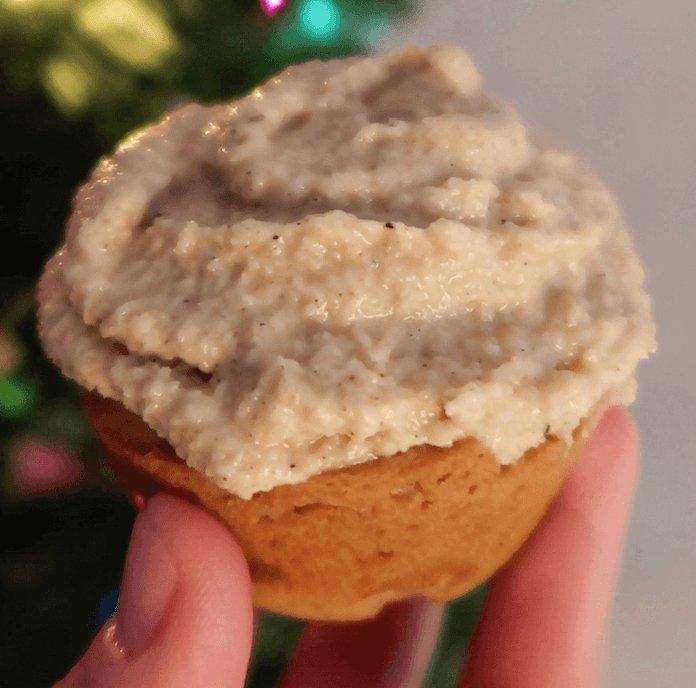 Season's greetings! For the holidays, we wanted to feature a treat that was both super yummy and dairy-free. We were inspired by Life, Love, and Sugar's eggnog cupcake recipe, so naturally, we made a vegan version of it! We used 'Nog (our special non-dairy take on the classic festive drink) as the vegan eggnog substitute. The cupcakes turned out delicious, and we think you'll enjoy them just as much as we did.
INGREDIENTS
Cupcakes:
1 cup 'Nog (vegan eggnog)
1/2 tsp vanilla extract
6 tablespoons aquafaba (egg substitute)
3/4 cup vegan butter (make sure it's at room temp)
1 & 2/3 cups flour
1 cup brown sugar
1 & 1/4 tsp baking powder
1 tsp xanthan gum
1 tsp nutmeg
1 tsp salt (optional)
Frosting:
4 tbsp 'Nog
1/2 cup shortening
1 tsp vanilla extract
1/4 tsp rum extract
1/2 cup vegan butter
3-4 cups confectioners' sugar
1 tsp nutmeg
1/2 tsp cinnamon
STEPS
Cupcakes:
Preheat your oven to 350 degrees Fahrenheit.
Mix the vegan butter and brown sugar until you get a creamy texture (we hand-whisked and it worked just fine).
Add in vanilla extract and 'Nog.
Slowly mix in the rest of dry and wet ingredients, mixing in the flour last until everything is well-incorporated.
Grease a muffin pan and fill each up to 3/4 full of batter. Bake for about 20 minutes, or until golden.
Cool for 10-15 minutes.
Frosting:
While the cupcakes are cooling down, begin making the frosting. Mix the vegan butter and shortening together.
Add the 'Nog, vanilla extract, nutmeg, cinnamon and rum extract.
Slowly add the confectioners' sugar 1 cup at a time and mix well. Keep adding confectioners' sugar until the frosting is fluffy.
Make sure the cupcakes are nice and cool, frost, and enjoy!
ORDER YOUR BOTTLE OF VEGAN 'NOG
Our 'Nog is made with a Cashew Milk base and is paired with spices that fill you with holiday warmth and cheer. 'Nog is alcohol free, so enjoy it as-is, or spike it with your favorite Bourbon or Rum. It makes for the perfect gift for friends and family, or for yourself. If you live in the NYC area, you can have fresh 'Nog delivered right to your doorstep. Best part: 'Nog is our milk of the month, so enjoy a $2 discount all December long.
NYC, order your fresh vegan 'Nog today!
NUTHATCH – NYC'S FRESHEST PLANT MILK